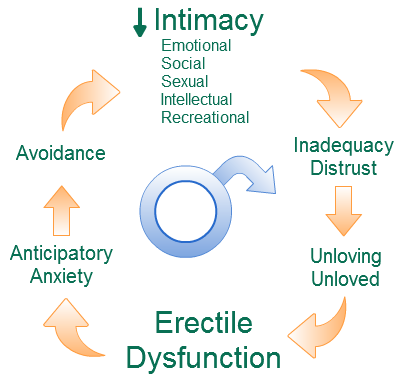 The Erectile Dysfunction-Relationship Cycle
Erectile and sexual dysfunction in an ongoing relationship
usually reflects difficulties between the partners.
Relationship problems
interfere with sexual feelings and cause or worsen erectile dysfunction. Any experience that hinders the ability to be intimate, that leads to a feeling of inadequacy or distrust, or that develops a sense of being unloving or unlovable may result in erectile dysfunction. Successive episodes of impotence are reinforcing. The man becomes increasingly anxious about his next sexual encounter. Erectile dysfunction is worsened by anticipatory anxiety about achieving and maintaining an erection interferes. Sexual dysfunction interferes with pleasure in sexual contact and reduces ability to respond to sexual stimulation.
Erectile Dysfunction in the relationship cycle
In the early years of the relationship
Lack of knowledge - there is a refractory period after sex before you can get the next orgasm. This refractory period increases gradually from a few minutes in teenagers to many days in the elderly. Misguided enthusiasm after a period of separation causes a one-off problem with erection. This is transient erectile problem is further reinforced by succeeding anxiety.

Lack of privacy - the young couple moves into the parental home and has minimal access to privacy. Sex is a hurried activity with the focus on orgasm. Intimacy is not fostered. Subsequently there is dissatisfaction and a further build-up of anxiety.

Stressors - careers with long working hours, night shift work and work from home leaves little time for the emotional intimacy that is requisite for sexual intimacy.
Middle phase
Lifestyle changes - a sedentary life style coupled with an indiscriminate diet result in obesity, a leading risk factor for erectile dysfunction. Excessive alcohol intake, and smoking have a direct impact on sexual functioning.

Infidelity

- is a major cause of anxiety and erectile dysfunction in the middle phase of the relationship. This is especially so when the infidelity arises from insecurity - the man or woman attempting to prove continued youthfulness and desirability outside the relationship.
Later years
Medical issues - chronic illnesses such as diabetes, and heart disease are commonly associated with erectile dysfunction.
What to do
Don't panic - anxiety worsens erectile dysfunction. An occasional problem with erection is not a reflection on your masculinity, and does not necessarily indicate a long term erectile dysfunction. Don't immediately try to 'prove' yourself. Give it a days break to be safely out of the refractory period. There will be no trouble in the next sexual encounter.

Communicate - reassure your partner of your continuing sexual interest in her. Communicate openly about your condition. Involving your partner improves the outcome of treatments for erectile dysfunction.

Quit smoking

Lose weight, exercise regularly

Get treatment for alcohol or drug problems

Work through relationship issues. Consider counseling if unable to work through problems on your own.

Depression, anxiety and stress related mental health issues should be addressed. Don't ignore them.
Whom to see for sexual dysfunction
Consult a qualified psychiatrist. He or she is the only person with the knowledge, training, and experience to deal with the psychological and medical issues that result in sexual dysfunction. The psychiatrist will also address issues in the relationship that are perpetuating the erectile dysfunction.

Avoid self-styled sex therapists and sexologists
References: